Actually spinning my own base yarns has been a bit more time consuming than I planned.  That's okay though.  It's not like I don't like the spinning.  Besides, I'd rather be spinning than filling out show applications and booking hotels.  John is taking over that responsibility.
While I decided that I would not have $5 take out coffees, I seem to have found another way to spend even more money by having already gone out for dinner twice this year.  Note to self, do not let your alcohol bill exceed your food portion of the bill.  Primos is the oldest and best Mexican restaurant in town.  Thanks for keeping pace with me on the Bombas Nancy!
I had dinner for the first time at Les Faux Bourgeois last night with some crafty friends.  The meal was amazing, but really, eating out twice in one week is a bit decadent for me.  Full austerity measures are now back in place.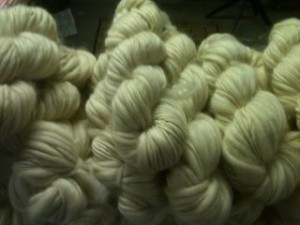 Monica will be working with me on a new cowl pattern as well as a scarf pattern for the lovely, lumpy BFL that I am spinning.  If anyone has a better name for this hand spun bulky weight thick and thin BFL than lumpy, could you please let me know.  I would be happy to send a skein to whoever can think of the best name.
So, it's pretty, it's soft, it's lumpy and it needs a name.  Help a spinner out would you?