….the more they stay the same in my world.  Yarn, yarn and more yarn.
Don't get me wrong.  I have done other things, I swear.  Took days off, read books and hung out with friends.  Even crossed the border and did some antiquing.  Even did a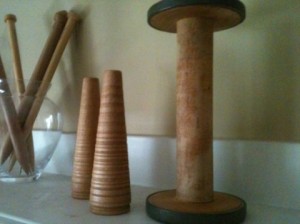 bit of  shopping online, worked on paperwork and watched another birthday come and go.
It hasn't been high excitement, but I find myself more content than I have ever been in my life.  It's a big statement for sure, but it is a truth.  All of the events of our life strung together with these beautiful spun threads.  Hand spun wool runs through all of it.
The new yarns from the Rustic Collection are almost ready as is the hat pattern that goes with it.  It feels great to be releasing a new pattern for this yarn.
Show acceptances have been streaming in.   I'm not sure what I was thinking applying for so many, but it's exciting to see that my season will be busy.  I don't really enjoy breaks in the work (even if you've heard me say otherwise).
I was planning on going to the Game of Thrones Marathon at VanCity Theatre tomorrow.  I would only have to line up at 6am and spend 10 hrs there knitting.  I even bought a pair of knitting needles with tips that light up so I could see my knitting in the dark.  But I've decided not to go.
I think a day in the studio with CBC radio is an excellent way to spend a Friday.  And instead of watching something I've already seen, I can take a few breaks and make some headway on Book 5.
Happy knitting and spinning this weekend!