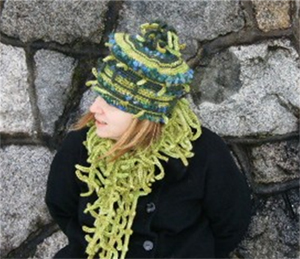 While I have been knitting and crocheting for over 30 years, I have only had the pleasure of designing for a living for the last 10 years.
Knitting became my saving grace while I worked in a call centre.  When a company restructuring took place, I knew what I would be doing from that moment forward: my desire to design was overwhelming.  While being self taught, I was fortunate enough to supplement these skills with a Millinery course from George Brown College in Toronto.
I have lived in Vancouver since 2007 and have noticed a definite shift in my design.  Oddly enough, when I go back to Toronto for shows now, I am often told how "West Coast" my designs are.
When I lived in Ontario, I participated in several craft shows, most notably the One of a Kind Show and Sale (Toronto), the Cabbage Town Festival (Toronto), Art in the Park (Windsor) and the Tulip Festival (Ottawa).  I also sold my work to several boutiques including the Textile Museum Gift Shop.
Now living in Vancouver, I have participated in both the Filberg Festival (Comox) and Circle Craft Christmas Market for the last 3 years. I have been involved with Portobello West (Vancouver), the Farmer's Market Society – Trout Lake Market, the Whistler Farmer's Market and Granville Island Public Market. My work can also be found at a few local boutiques in Vancouver.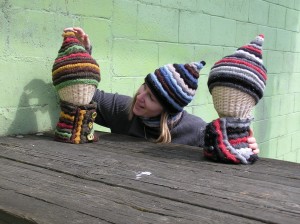 Due to my affiliation with the Farmer's Market Society, I am a strong proponent of locally made and produced items and am seeing a new appreciation and resurgence of interest in artisan and hand crafted items. This renewed consumer interest is inspirational and integral to my work.  People truly enjoy handmade things and I love interacting with people that are inspired by handmade work.
I take in what I see around me, filter it through my textile lens and translate it into something wearable.  I am told that my designs "have a life in them"  What a wonderful compliment for something that I enjoy doing so much.
It is my intention for the designs to resonate with the wearer, make them feel unique, make them smile, giggle or otherwise know that they have something specially made for them.
I have been teaching knitting, spinning and crochet at Birkeland Bros. for several years and now teach out of my studio. I am also a spinning consult for Once Upon a Time and believes that with hands-on interactive instruction, anyone can spin straw into gold!