I've been spending more time in the studio over the holidays than I thought I would.  I thought that after the craft crash, I might enjoy a little time off.  Nope.  Want to work, want to play with work.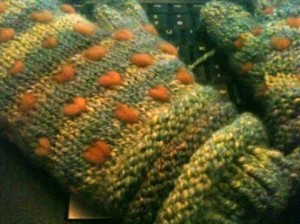 These made me happy.  I was definitely smitten with the mittens.  This was after I stopped swearing.  A miscount in the number of rows for the rib cuff had me, dare I say it, ripping it back to correct.  I was only about 14 rows in to the knitting when I noticed it, but damn, it still hurt my feelings.
The yarn is a hand spun and hand dyed 2 ply merino wool.  The thrum is some hand dyed merino from my friend Jennifer (part of her giant destash before she left for India)
I core spun some wool today so I could make a non matchy scarf.  I might be feeling weavie —we'll see.
While cleaning today I found some more hand spun that I think would work great for mitts.  Well that's my evening planned.    Did someone say cozy fireplace knitting?