What can I say ab0ut Whistler?  It was the best finale to a market ever.  So many people stopped  to buy, request custom items or just say "see you again next year".
John and I have always felt very appreciated at this market and count many of the locals as friends.  Basically meaning, yes, you aren't rid of us yet.  We will visit you in the winter and annoy you and borrow your spare rooms and well —-you get the picture.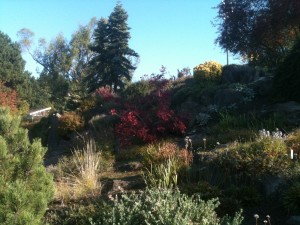 However, no rest for the wicked and we jumped right into the Apple Festival the following weekend with John doing his own thing at Kitsilano Market on Sunday.  Awesome.  This festival is probably my favourite of the year.  Claire is always beside me with her wonderful hand made cards and when it's not busy (which isn't often) it gives us a chance to hang out and get caught up.  I never leave without a huge bag of new varietals to try out…The weather, again, perfect and well what a way to send off the season.  Now it is the biggest freak out of all, but what, wait for it——WHAT?  no freak out at all.
My yarn order came in when promised.
I am finally getting my woolie winder and a new Lendrum.
Jennifer has given me her remaining rovings as she is heading to India for 5 months.
The studio is full of willing friends all stamping, tagging and reskeining.
At the end of the month we are taking over another space in the studio and will soon rule the world.
Toni, Kristen, Pearl and Karen are awesome —just saying.
I should be completely overwhelmed, but several people have my back.  I feel it, I know it and I am secure in the knowledge that what I make will sell and what I run out of will be ordered.  I've never been happier with my designs, opting this year for a cleaner more polished look.  Gone is the wacky art yarn, replaced by something you will ache to knit or weave with.  Yes, finally coming into my own.
Hadiya is still w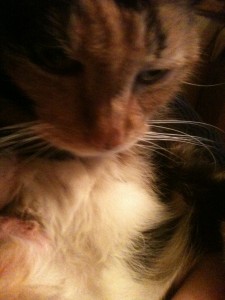 ith us for a few more days.  We've finally decided to put her down.  We've selfishly kept her with us long enough and how could we do anything else?…Look at this face…
I just realized while posting this picture that a lot of the carding I have done this week has been a lot of oranges…..Hmmmm.  We were treated to her having a mad run around the bed trying to grab at some skeined yarn the other day.  Flicking it with her mitten paws and flossing her teeth with what she was lucky enough to catch.  Probably her last play time.
I'm going to miss finding wet sections of yarn running through my hand when I'm knitting.  We're staying at home today for some final cuddles.