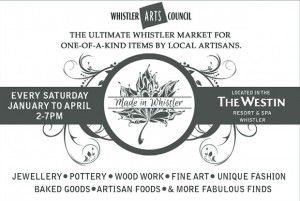 After a not-so-restful holiday season, I'm happy to greet 2013 with a winter market. All of my new designs are being debuted at the Made in Whistler Market.
This Saturday will be the fourth weekend I've spent at the lovely Westin Hotel with other artisans. The market will be every Saturday until Easter in April from 2-7 pm.
In addition to jewellery, pottery, baked goods, and visual art, the Westin will be selling homemade soup and bread with all proceeds going to local charities.
Made In Whistler — Winter Market
January – April, 2013 (Saturdays)
2:00 – 7:00 pm
Westin Resort & Spa
4090 Whistler Way, Whistler (Village), BC