I've been busier than usual the last week or so. Hard to believe, since I have always set myself such a rigid schedule. I'm busier because I'm going on vacation.      It has been more than 10 years since I've been this reckless? …. but it is something that has put me into overdrive.
I'm going to Paris for my 50th birthday with my best knitting gal pal, Jean.  It seemed like a no brainer since we have the same addictions; yarn, chocolate, cafe creme, pain au chocolat and museum crawling. I can hardly wait….but now I'm in this crazy place where I am trying to get done the work I would have done if there was no holiday. I'm also taking quite a bit of yarn with me to France…..(more on that later) and I really want it to be my best work.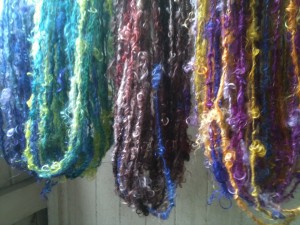 I've had a lot of creative time so far this year, more than usual and I've given myself a few days a week of just doing what I feel like. This is new and has led to some lovely finished pieces that got snapped up just after being posted on facebook (in a few cases).  Weird,because when I first started posting on FB, it was  just so my customers would know what I'm up to.  Not that I'm complaining!
My show confirmations are rolling in and it's going to be the most hectic season yet, but I am thrilled to have the chance to share my work with a wider audience.
Classes at the home studio are going really well. I'm surprised at how at ease I am with work at home. I expected a few more hiccups but so far it's all rainbows and puppies. After I get back from France I will be having the Intuitive Crochet Class, another Beginner Spinning class and the Dye Workshop. I'll post as soon as that schedule goes up.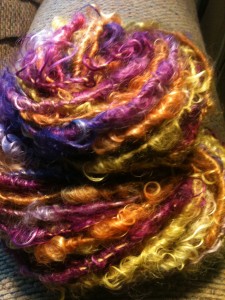 My friends are busy as well.  One of my  former students, Mekkin, owner of Hanahmin's Fiber is going to be doing her first show at Fibres West.  Pearl Chow will be teaching Needle Felting at Wet Coast Wools this weekend.
Just a few more things to finish off.     I'm in Whistler this weekend for the Made In Whistler Market at the Westin Hotel, sponsored by the Whistler Arts Council.  It's my last show before my trip. There is also one custom order to finish off.  All I'm missing is sleeves and a collar and then we can call it a cardigan.
Final order of business?   Decide what my project for the plane will be. Knitting or crochet? And how much room to leave in the suitcase for new yarn  Oh yeah, there will be yarn.