Time to get my knit together!  Okay days of hanging out in coffee shops and casually casting on stitches, take note.  This is the big leagues and it's not your first rodeo.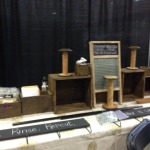 This conversation with self happened during the tear down of Knit City yesterday.  It is THE event of the year for all things fluffy and fabulous in Vancouver and I was thrilled to participate.  With a record attendance, it was almost scary to be surrounded by that many like minded individuals.  Yarn people touch yarn and then sniff it, they also rub it against their face.  I saw yarn squished, cradled like a baby and adults squeal like small children on Christmas morning.  What can I say, if there's a heaven, it's pretty much going to be like this.
I am so grateful to the organizers of the event as well as the customers for their overwhelming support of indie artists and handmade.  It's why I get to have my passion be my career.
This year, I had an army behind me, so much so that I had to turn down free help.  This is an unheard of issue for crafters.  There would not have been enough room for customers.   Crazy, I know.
Now the focus is completely different and I think this is a to do list that won't kill me may work.
Inbox clearing
Custom orders finished
New class scheduled updated on website
Return dining room to former show state
Knit until fingers bleed
Inventory, inventory, inventory.
Thank you to all my dear friends.  I couldn't do this without you.