I've never been a sewer.  Not that I've had a burning urge to sew, but at least to be able to mend or repair would be a skill that I would welcome.  Seeing a notice on Facebook about a textile artist who was inviting people (even those with no sewing experience) to join her Sewing Circle, I was intrigued.
I was thrilled to be able to add this happy adventure to the other reason I was going to the MOA, the current exhibit Layers of Influence: Unfolding Cloth Across Cultures which is finished at the end of the month.  So in order to leave the house I packed up my camera and about a weeks worth of knitting.  I've been thinking about this a lot lately and it's always half finished projects I swear I'm going to complete while I'm on the bus, having a coffee, etc and it usually ends up untouched (except for getting more tangled in my bag) and returned to the house.  John calls in my "donkey load" and I've finally decided it is my unfinished security blanket.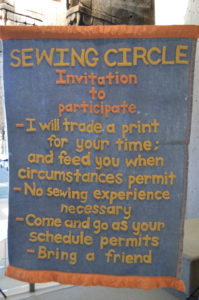 I was welcomed instantly by this sign. A lovely museum employee standing beside it was inviting me to join the circle.  I looked over and saw two tables of buzzing conversation and laughter, and at that moment thought there was no better place to be.
Seated at the end of the table I was able to choose a blanket square and a threaded needle and told to do what I wanted. I could sew in between the lines of tape, outside or over, but not through, as it would be removed later when the blankets were all pieced together again.
I was instantly comfortable and the conversations about how you got here seemed to be the conversation opener.  It went very quickly from that to intimate details of people's lives.  Memories, triggered by the act of stitching itself just seemed to pour out of people.  One older man confessed that he never imagined how relaxing the act of stitching could be and that he felt all of his problems just drift away.  He had memories of his mother mending things and instantly felt connected to her.
The interactive exhibit was titled "Blanket Stories with Marie Watt".  Each blanket that was donated had a story, and the act of stitching on them was creating new stories, pulling from memory, each tug of the thread coaching the stories to the surface.  I can't describe how honored I felt to be included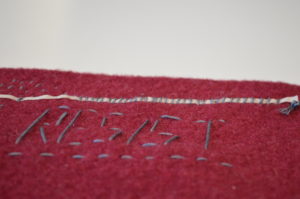 in these stories.
One younger fellow ( a new teacher ) was talking about how his mother crocheted wonderful blankets and how he wished that he has that skill and it was something he might tackle (one day).  Well, for once, that overstuffed bag of unfinished hats had a purpose.  I asked him how he would feel if that "one day" was today. We finished what we were currently stitching, the artist handed my square to a young girl who just sat down at the table and my new crafty friend and I left the circle and started our own craft corner.
He is now the proud owner of a new wooden crochet hook and a several sample rows of crochet in a bright pink.  BTW, he picked up the crochet like a rock star and within a few minutes had managed a chain stitch, and a few rows of single crochet and then he went back to join the circle.  I was bursting at the seams. Given a wonderful gift and then able to pass on a new one, I was overjoyed.  With that lovely exchange I was now
able to see the exhibit I came for with new eyes.
Layers of Influence was a wonderfully curated exhibit.  As a touchy touchy individual, the small signs reminding me to keep my curious grubby paws to myself were necessary.  I wanted to meld with each piece I saw. Drinking in their stories with my eyes would have to do. My hands would have interpreted a more visceral experience.
Textile tells stories, cloth tells storie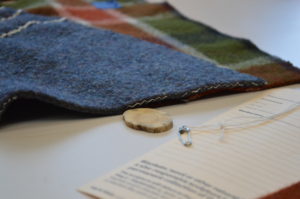 s, we keep our histories in our cloth.  Nothing was more evident to me today.  Humbling really, as I have been a knitter most of my life and didn't realize how many stories had passed through my own hands.  And for the final mic drop, I left a small slice of moose antler with the artist.  If I'm lucky it will become a part of someone else's story.