Last  year at this time, I thought I was busier than I could ever be.  I mean really, John was out of town and I had two big August shows to deal with.  Monica got me through Filberg (thank you Monica) and there's no way I could have done Edmonton Folk Festival without Kim (mucho thanks).  It was still two shows and still crazy hectic.  So this year in order to save myself from the crazy, I opted out of Filberg and decided to do only Folk Festival.  Well that's no exactly true, I did jury for one other show I did not get into..Suck show who shall remain nameless, you won't have me to kick around this year!  Note to self:  shit happens, get over it.
The one show thing turned out to be a bit of a surprise though…..yup, you don't get less busy you just find other stuff to do, but if doing other stuff is this……. yeah baby, I'm on the right track.  Welcome to happy.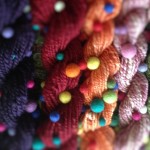 There is no other way to feel when I'm spinning it and there's definitely no way you can be all bitchy pants when you are knitting it.  And now for something really awesome this year.  Super special yarn in smaller 50g skeins.  That's right accent, don't overload.  It makes you (knitter/crocheter) more creative in working with it.  And its' actually the crack vs cocaine affordability.
Here's the confession part.  I knit all of it.  Every last drop, so I'm starting over, back at the wheel as it were and getting down with the Dead, White and Blue Marathon which I think will be the only thing to keep me seated long enough to complete it.  That will take me to 9:00am on Sunday.  Let's see what can happen in that time.
So I definitely don't expect to resurface until Monday.  Here's wishing everyone a great weekend –outdoors –maybe with knitting?