or so I mi
ght like to think.  I still can't believe that I thought I could take two classes while working on jury submissions and teaching in the studio.  I would like to take this opportunity to thank my own ignorance for kicking in to high gear.  Would not have been able to do it without you buddy!
At least now I can offer a leaner website with slightly clearer photos.  Other than the Ladner Market this past weekend, John and I will not be at any markets this summer, NONE.  As a matter of fact, this was the only photo I was able to grab at the end of the market.  Pretty sad.  Imagine music, crowds, fudge and tons of gorgeous yarn and knitwear instead of empty street and folded tent.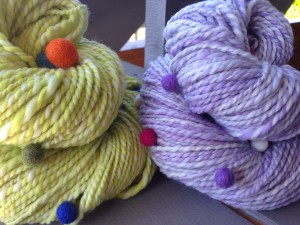 For the next little bit, I will be working on finally having a shopping cart option for the website.  Coming into the current millenium, right?  I'm excited to have the next phase up and running so check back in a week or two and voila…shopping!
Check back even sooner if you are looking for first dibs on these one of a kind lovelies.